2018 neuer Knoblauch ist jetzt geerntet worden und es ist heißer Verkauf. Jetzt haben wir normalen weißen Knoblauchpreis, 4.5-5.0cm, 5.0-5.5cm, 5.5-6.0cm 6.0cm und oben, weil reine weiße Knoblaucherntezeit später als purpurrote Haut ist Knoblauch, so haben wir immer noch weißen Knoblauch Preis bis jetzt. Jetzt haben wir neue Bestellung Export nach Norwegen, Panama, Irak Markt, 500g * 20bags / 10kg Karton, 250g * 40bags / 10kg Netztasche. Normaler weißer Knoblauch 5.0-5.5Cm, 175g * 20bags / 3.5kg carton.175g * 50bags / 8.75kg Karton, 5.0cm purpurroter Hautknoblauch, Knoblauch in 10kg loser Karton, 1kg Ineinander greifenbeutel-reiner weißer Knoblauch, 500g Ineinander greifenbeutel-Knoblauch, normales Weiß Export nach Panama, lose Mesh-Tasche Knoblauch in Mesh-Tasche.Wir sind nicht nur Export frischen Knoblauch in dieser Saison, sondern auch frische Kartoffeln, frische Karotte, rote Karotte, Bulk frische Karotte, frischer Ingwer, luftgetrockneten Ingwer 200g und mehr, Red global Trauben, Zuckermais in dieser Saison. Haben Sie irgendeine Anforderung, bitte zögern Sie nicht, mit mir zu kontrahieren.
Name

Garlic,Fresh garlic,Pure white garlic,Normal white garlic

Size

4.5cm, 5.0cm, 5.5cm, 6.0cm, 6.5cm and up

Place of origin

Jinxiang, Jining, Shandong, China

Certification

Global GAP,Phytosanitary certificate.Health certificate,Fumigation certificate,Origin,Commercial invoice,Packing list,

Supply period

All the year round

Fresh season: early June to mid September

Cold storage season: September to next June

Standard

Grade A

Packing

Loose Packing:

5//8/9/10/20KG MESH BAG;
3.5/7/8/9/10 KG CARTON


Small Packing:

120Gx40/4.8KG CTN, 160G*40/6.4KG CTN, 200gx20/4kg CTN,400Gx20/8KGCTN,500Gx20/10KG CARTON, 900Gx10/CTN,1KGx10/10KG CTN,

4P 200G*12/2.4KG BAG,5P 250Gx20/5KG BAG ,

500gx10/5kg MESH BAG,10P 100G*10/8KG BAG,

Quantity/conveyance

26/27/28/MTS FOR ONE 40RH CONTAINER

Shipment degree

-3°- 0°C

Delivery time

5-7 days after received the deposit

Shipment port

Qingdao Port of China

Main importing Country

UK, Greece, Russia, France, Norway, Turkey, U.A.E, Kuwait,

Algiers, Dubai, Bangladesh, Thailand, Malaysia, South africa,Brazil, Canada, America and so on.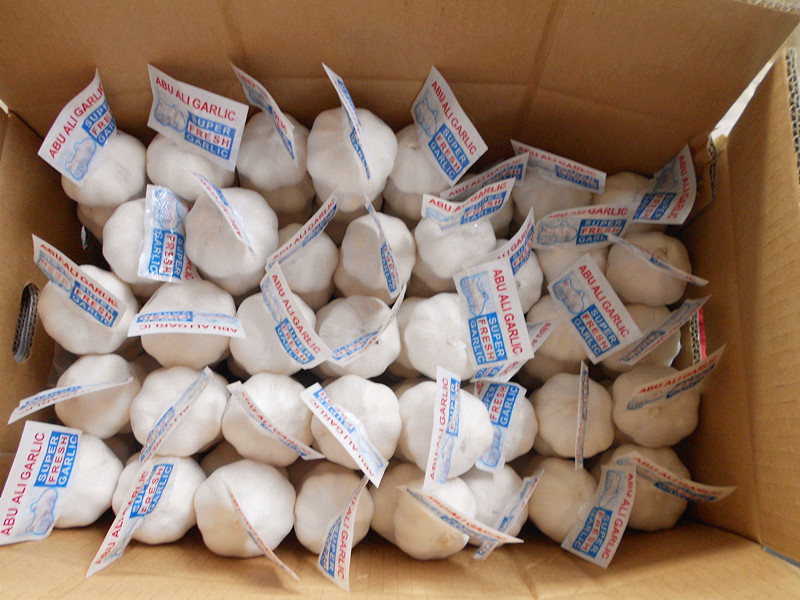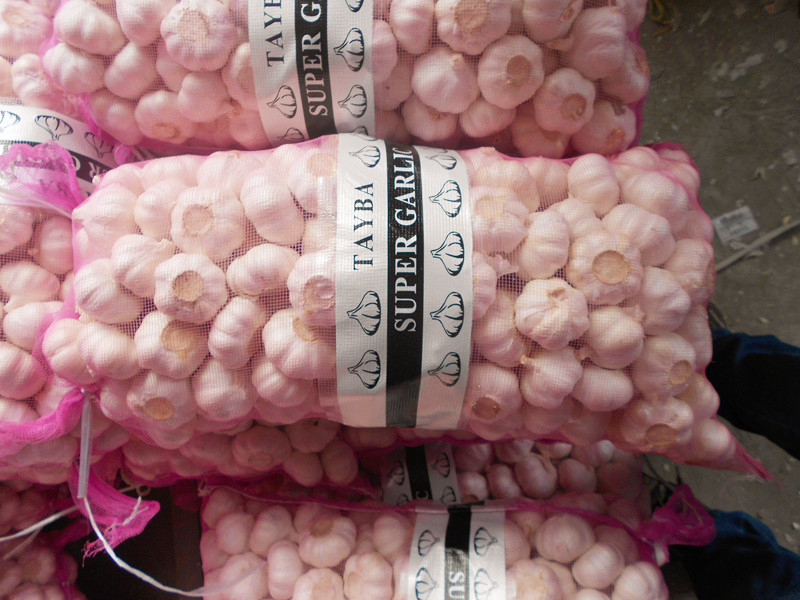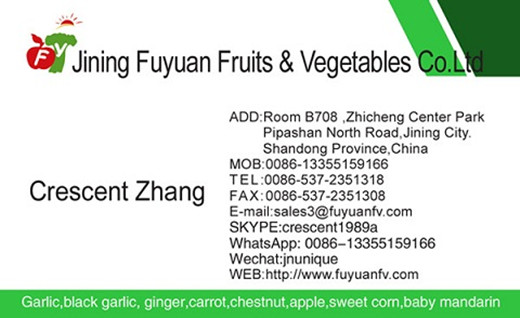 Produktgruppe : Frischer Knoblauch > Normaler weißer Knoblauch 5.5-6.0cm